As has been our tradition at the close of the year, we would like to share some highlights of what has been happening on More Mesa in 2008, and the work of the MMPC.
Bio Study:  Field work, for the Updated Biological Resources Study requested by the owner of More Mesa, began in May of this year.  It will be completed at the end of April 2009.  While interim progress reports have been prepared by the consultant, and for the use of the County and the owner, these are not public documents.  Therefore, the first information available to the public will be a draft final report; currently projected to be released in May 2009.  All we know at this time is that the work is on schedule.
More Mesa For Sale:  As we reported last year More Mesa is for sale, and, it is still for sale.  However the asking price has recently fallen from $110 Million to $85 Million.  Speculation is that prospective buyers will be reluctant to buy until they know the outcome of the Bio Study.  Results will be published sometime in the middle of 2009 as described above.
More Mesa Handbook:  Also as reported last year, MMPC has committed to the creation of a multipurpose More Mesa Handbook dealing with its resources, history and constraints.  However, with the onset of the Updated Biological Study, it was felt that the Handbook needed to be more comprehensive in the chapters we had planned, as well as including a chapter on Future Management of More Mesa.  We also decided to publish the results of our Usage Study as an appendix of this document. With these additional factors, the size of the document grew considerably and consequently it took longer to complete.  But, we are happy to report that the Handbook is currently being published, and an announcement of its launch will be forthcoming in the next month or so.  This very comprehensive and readable document will eventually be available in print, on disk, and in pdf format on our web site.
Fire Study:  The informal study of the July 2007 fire area continued into the spring of 2008.  In that study, we monitored the recovery of native and non-native plants in the burn area on a bi-weekly basis.
Friends of More Mesa:

  This year we inaugurated a few feature highlighting special people in our community who have been particularly important to MMPC and our mission.  This feature may be found at

People > Friends

.
Outreach: Finally, the More Mesa Preservation Coalition (MMPC) continues to present illustrated talks tailored to the needs of the specific audiences.  This year there has been particular emphasis on the Bio Study and the implications of its results.
As always … thank you all for your wonderful support and for loving this very special place. Our warmest holiday wishes.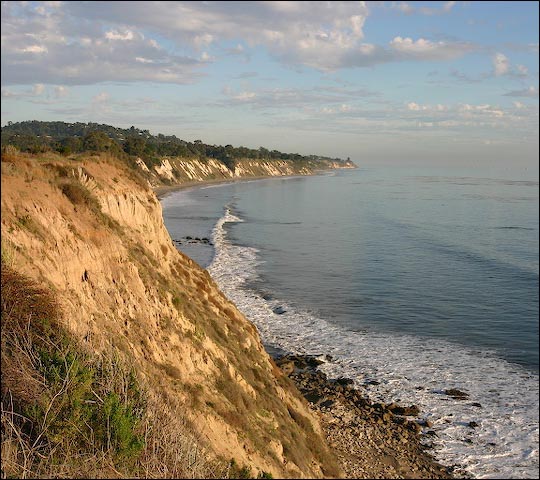 More Mesa Cliffs – Callie Bowdish