A Cautionary Tale
In our Monthly News for October of last year we talked about the distinct difference between the cliffs of More Mesa on the east side and those of the west side.  In that issue we emphasized the danger involved in the steep, unstable and unpredictable west side cliffs of More Mesa, those consisting of the Santa Barbara Formation. By way of contrast, we described the eastern cliffs, of Monterey Shale, as a very old clay formation that erodes slowly and has a gentler sloping grade. Soon after that October report we noticed a sizable rock fall … and this one was on the eastern side !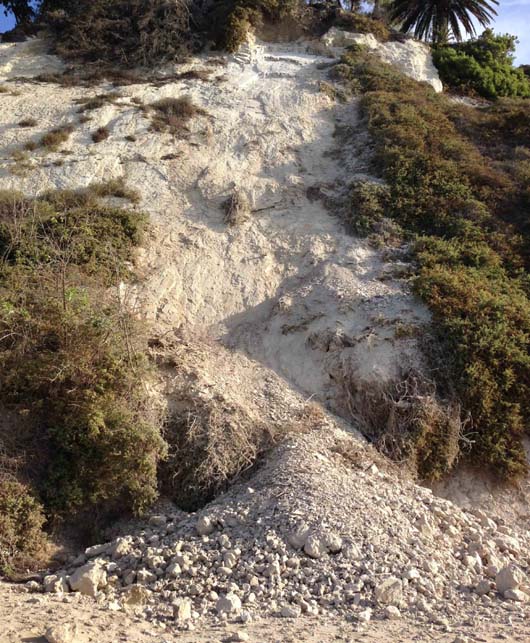 And just a few days ago, another slide (estimated to be 30 feet by 50 feet and about 4 feet high) came tumbling down from the eastern cliffs below Hope Ranch. The photographer who captured the image below (Glenn Avolio) estimated that the fall contained at least a million pounds of rock.
Moral of the Story:  While the western cliffs may be younger and more treacherous than the eastern cliffs, do not discount the eastern cliffs.  They are also extremely dangerous!