---
More Mesa Biological Resource Study
Prepared for: County of Santa Barbara, Planning and Development
Prepared by: Rincon Consultants, Inc
Draft, December 2010
PDF available here.
---
A Biological Evaluation of More Mesa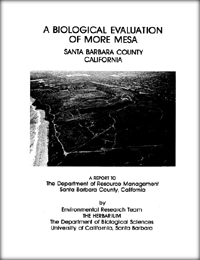 A Report To: The Department of Resource Management, Santa Barbara County, California
By: Environmental Research Team, The Herbarium, The Department of Biological Sciences, University of California, Santa Barbara
31st August, 1982
The Biostudy is a large document and has been saved to pdf in sections. Click on any of the sections to view/download:
---
If you are having trouble opening or downloading any of the above, please contact the More Mesa Preservation Coalition via the Contact page.