As 2009 nears its close, MMPC celebrates, not only this happy season, but almost a decade of pursuing our vision … preserving all of More Mesa … forever. And, as has been our custom, we would like to share some highlights of what has been happening on More Mesa, and our work during the past year.
Bio Study
MMPC has learned that field work for the Bio Study has definitely been completed.  However the report has been put on hold and no release date is available.
More Mesa For Sale
As we reported last year More Mesa is still for sale, with the asking price remaining at $85 Million.  However, with current economic conditions as they are, it would not be unreasonable to assume that the price has, or may, drop below that figure.  We will keep you informed of any developments in this area.
More Mesa Handbook
At the end of last year we reported the publication of the More Mesa Handbook, a comprehensive document describing the resources, history and constraints on More Mesa.  In early 2009, the Handbook was formally "launched" during an extremely successful event; one attended by almost 80 people – see this page.

Since then, the Handbook has been gathering raves and praise from all sectors, both public and private!  Indeed, it has received two prestigious awards for being an "Outstanding Education Resource" from the American Planning Association – California, as well as being cited in a Santa Barbara County Resolution.  Most recently, the Handbook was nominated for an award from the Association of Environmental Professionals.  During 2009, dozens of hard copies and disks have been distributed to public officials, County and City staffs, educational institutions, scientists, funding organizations and interested private citizens.  The Handbook may be downloaded  here.
Fence at End of Mockingbird Lane
In order to minimize the possibility of fire, neighbors on the northeast corner of More Mesa have constructed a perimeter fence, to prohibit illegal motorized vehicles.  There are also ongoing efforts to investigate the possibility of a similar construction on the west side of More Mesa.
And      …

MMPC is cooperating with County Parks in a process to remove an extremely harmful invasive known as "Russian Knapweed" from County owned sections of More Mesa.
Our data base is nearing 1000 supporters.
We have a new e-mail address.
Finally, our winter visitors are out on More Mesa!  Especially look for up to four Northern Harriers that have already been reported.
As always … thank you all for your wonderful support and for loving this very special place.
Our warmest holiday wishes.
Valerie Olson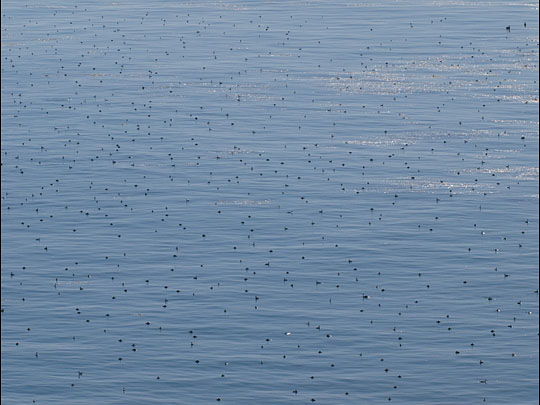 Large number of grebes seen daily off More Mesa bluffs.
While thousands of grebes can normally be seen off northern Santa Barbara
County at this time of year, this is an unusually large number for southern
Santa Barbara County, and the grebes are more numerous off
More Mesa bluffs than other locations.
Photo by Yuji Kozaki