HACIENDA VIEJA PROJECT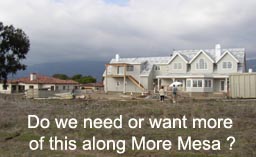 BACKGROUND: The Hacienda Vieja (HV) Project is located adjacent to the northeast corner of More Mesa on Vieja Drive. As proposed by the developer, Jack Maxwell, it consisted of four extremely large houses … all two stories high. With Planning Commission direction, all houses were made slightly smaller. However, two structures remain two stories high. Because the More Mesa Preservation Coalition (MMPC), as well as the community, is extremely concerned about the proliferation of large, inappropriate two-story houses on the edge of More Mesa, the decision has been appealed to the Board of Supervisors.
TWO-STORY HOUSES ARE INAPPROPRIATE FOR MORE MESA
Two story houses severely impact views from More Mesa's trail system.
Two story houses are entirely inconsistent with character of surrounding neighborhoods.
Two story houses reverse long term (County) precedents requiring new houses next to More Mesa (e.g., Vista la Cumbre, Diamond Crest) to be single story and relatively unobtrusive.
Visit More Mesa to see how the immense and obtrusive new (blue), two story construction on the northeast corner obstructs the north view from as far away as the coast and the southwest corner of More Mesa.
CUMULATIVE NEGATIVE IMPACT ON NE CORNER IS ENORMOUS
HV is the fourth new project on the northeast corner of More Mesa.
HV will double the number of two story houses on edge of More Mesa
All four projects will result in 13 new structures on northeast corner … 

a 33% increase in the number of buildings around the entire periphery of More Mesa.
THIS IS NOT THE END … Two Story Houses Could Encircle More Mesa
Some vacant land around the edge of More Mesa still exists.
Many large lots can be subdivided.
Single story houses can be remodeled or converted to two story.
NUMBER OF HOUSES AROUND MORE MESA COULD BE DOUBLED… AND THEY COULD ALL BE TWO STORIES HIGH!!
MMPC believes it is time to take a firm stance toward reversing this alarming trend. We hope you will stand with us … for More Mesa and its future.
CHRISTMAS BIRD COUNT 2004 – January 05, 2005
From the More Mesa Bluffs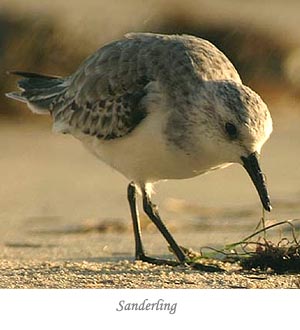 Red-throated Loon
Common Loon
Western Grebe
Red-necked Grebe
Brown Pelican
Double-crested Cormorant
Brandt's Cormorant
Pelagic Cormorant
Surf Scoter
Red-breasted Merganser
Willet
Whimbrel
Marbled Godwit
Sanderling
Wilson's Snipe
Bonaparte's Gull
Mew Gull
California Gull
Herring Gull
Western Gull
Glaucous-winged Gull
Caspian Tern
On More Mesa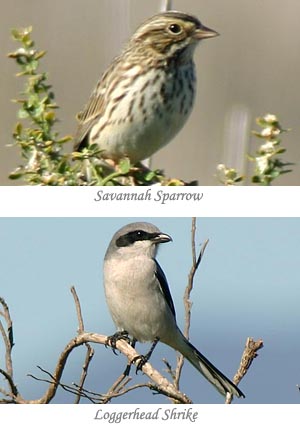 Great Blue Heron
Turkey Vulture
White-tailed Kite
Northern Harrier
Sharp-shinned Hawk
Red-tailed Hawk
American Kestrel
Rock Dove
Mourning Dove
Anna's Hummingbird
Black Phoebe
Say's Phoebe
Loggerhead Shrike
Western Srub-Jay
Bewick's Wren
Ruby-crowned Kinglet
Blue-gray Gnatcatcher
American Pipit
Orange-crowned Warbler
Yellow-rumped Warbler (Myrtle)
Yellow-rumped Warbler (Audubon's)
Common Yellowthroat
Spotted Towhee
California Towhee
Savannah Sparrow
Song Sparrow
Golden-crowned Sparrow
Purple Finch
House Finch