In many of our communications to More Mesa Preservation Coalition supporters, we have emphasized the importance of building a very large and powerful supporter base.  MMPC  stresses this point over and over, because, at this stage of our efforts to preserve More Mesa , it is crucial that all the people who care deeply about More Mesa be aware of everything that is happening in, around, and about this very special place. From the few community residents who chose to be supporters of MMPC in 2000, we have increased to more than 850 strong.  The graphic below shows the robust and steady growth we have witnessed in the intervening years.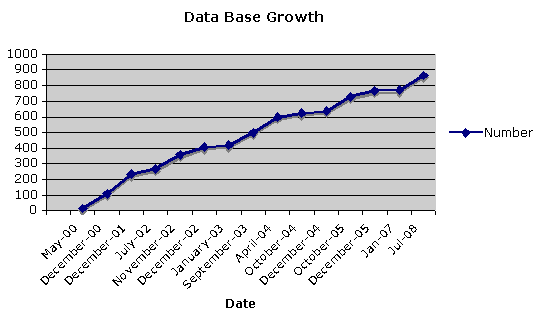 However, it is now more important than ever to expand this supporter base to twice, or three times, its current number.  Should the status of any aspect of More Mesa change, at any time, we want all of the community to know about it … and know about it quickly.  We want to be agile and able to respond to any issue effectively and promptly. Toward this end, we hope to accelerate the growth of our supporter base in the coming months.  You can help by talking about More Mesa to your family, friends, neighbors and colleagues.  Urge them to be included on the MMPC list, by contacting us.  Almost all of our communication is done via e-mail, so we ask that supporters supply an e-mail address, and at least one other form of contact (mailing address and/or phone) so that we easily relocate supporters who change servers.  Please know that all contact information is held in the strictest of confidence and will not be supplied to any other person or organization … ever.
Thanks for all your help.