Below is a list of covers for a number of slideshows of insect photos.  To display a slideshow, please click on "Slideshow" in the cover box. If the "View" link is selected, all of the photos will be displayed as thumbnails. To open the slideshow from the thumbnail mode, double click on a thumbnail. If another slideshow is opened on this page, the previously opened slideshow automatically reverts to its cover box. Note – one may have to scroll down to a newly opened slideshow, because the page refreshes after selection.
For now, photos have been grouped into just "Butterflies" and "Other" slideshows.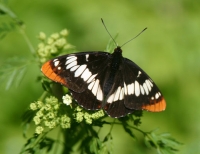 West Coast Lady, Lorquin's Admiral, Acmon Blue, Marine Blue, Western Pygmy Blue, Checkered White, Common Buckeye, Gray Hairstreak, Monarch, Sara Orangetip, Common Checkered Skipper, Northern White Skipper, Umber Skipper, Woodland Skipper, Dainty Sulphur, Orange Sulphur, Anise Swallowtail
The above slideshows include the better photos of species photographed.