A teaching moment …
Although we have not had any documented fledglings at More Mesa, as yet, we have an amazing kite photo to share with you this month.  The image was taken by wildlife photographer Barry Rowan, late in May at Lake Los Carneros.  We thought it would be fun and informative to list all the things one can "read" from this single special image:
There are three kites; one of which has captured a prey item.
The bird with the prey in its talons is an adult …probably the father. We know the bird with prey is an adult because it is all white (except for the wing tips) and has red eyes.
We know the prey is a vole because of its overall size, the size of its tail and its color.
The adult is in the process of transferring the prey item to one of the fledglings.
The fledglings can be identified from the rusty patch on their chests and brown eyes.
From all of the above we deduce that this is a "teaching moment" for Dad, and, hopefully, a learning experience for the young.
For more extensive and detailed information about kites see the eleven part "Kite" feature on this web site at  White-tailed Kites.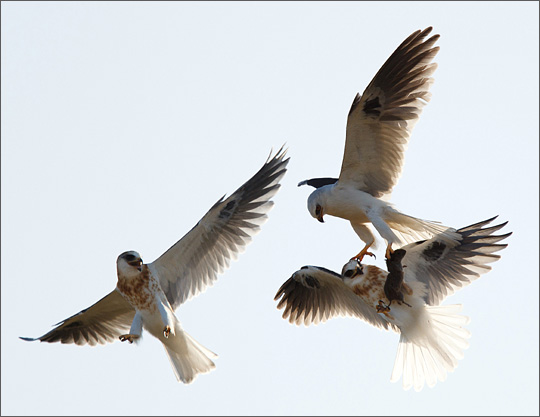 Thanks to Barry Rowan for the use of this photo. More of Barry's superb photos can be seen at: Wildphotography – Barry Rowan