This month we are pleased to present a new feature of our web site …  "Friends of More Mesa"; articles highlighting members of our community who have consistently shown a high level of commitment to the preservation of More Mesa.  Although we are launching Friends of More Mesa in this September 2008 Monthly News, the "Friends" feature ordinarily will be found at People > Friends.
We are very pleased to present the first of our many valued friends … Mark Moseley.
No newcomer to our lovely South Coast, Mark Moseley was born and raised in Santa Barbara.  And, like most of our residents, Mark considers himself very fortunate to call Santa Barbara home.  And also, like many who value the unique and beautiful place we call home, Mark has found ways to give back to his community in both personal, and professional, arenas.  As a respected local realtor, Mark assists his clients with extensive knowledge of the area's neighborhoods.  And as a resident, a family man, a member of the PTA, and an American Youth Soccer Organization (AYSO) coach and referee, Mark finds avenues for supporting and improving schools and his community in general.  Mark, his wife Cathy, and their three children, currently reside near More Mesa and frequently enjoy the scenic and recreational opportunities it offers.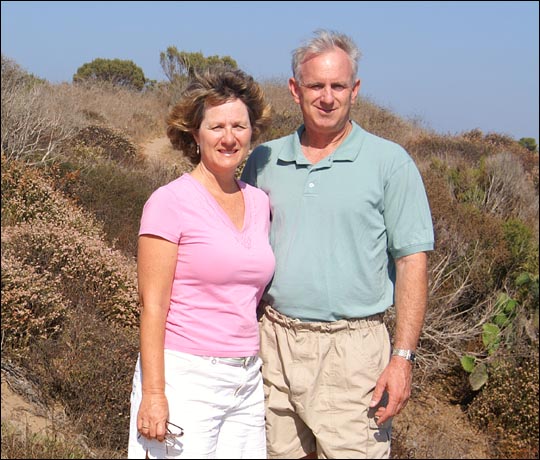 Mark and Cathy Moseley
Over the past four years, Mark Moseley has proved to be a most kind and generous supporter of More Mesa and its treasures.  Following his unique practice of donating to local non-profits on behalf of his real estate clients, he has made several important contributions to the More Mesa Preservation Coalition.  We are grateful to Mark and his family for their generosity, and for caring so much about this most special place.