Many different raptor species have been observed on More Mesa in the past few weeks.  These include:
Peregrine Falcon
Sharp-shinned Hawk
Cooper's Hawk
Loggerhead Shrike
Merlin
Golden Eagle
As evidenced by sightings of a female Northern Harrier Hawk, winter residents are also coming back.  A female Harrier has been seen in the northeast corner of More Mesa hunting in its distinctive "terrain following" mode. Harriers can also be identified by the characteristic white spot on their rump; a feature that appears to "flash" when the bird is turning in flight. The raptors listed above are, of course, in addition to our ever present and very beautiful, White-tailed Kites.  Kites have been observed hunting and perching regularly at East and often at West and Central as well.
We are very grateful to avid birders who have been using the "Sightings Report" feature of this web site at  Contact>Sightings Report to report what is happening with respect to the birds and animals on More Mesa.  We encourage all of you who see any raptors or other unusual birds and animals to report them.  To access the "Sightings" form from the Home Page, click on "Animals" and then "Sightings" at the left hand side of the page.  The "Sightings" feature is easy to use and helps document the activities of the fauna of More Mesa.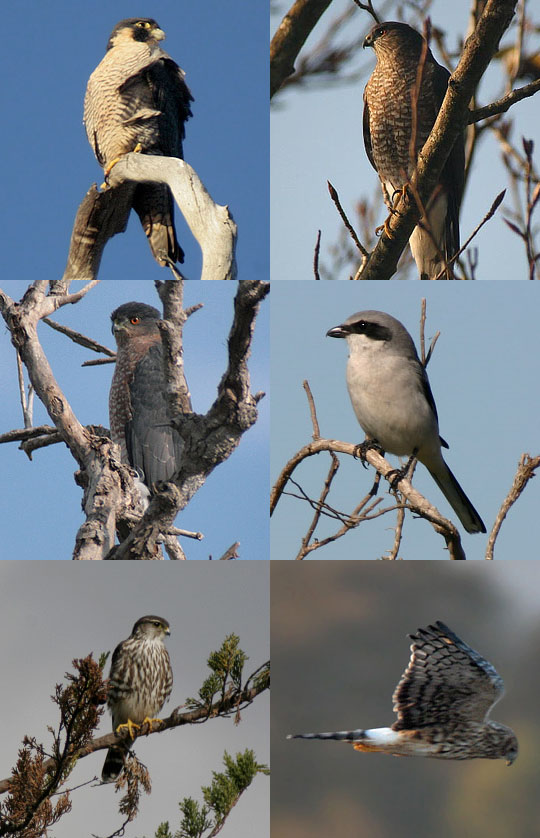 Raptors from left to right: Peregrine Falcon, Sharp-shinned Hawk, Cooper's Hawk, Loggerhead Shrike, Merlin, Northern Harrier (all except for the Falcon were photographed on More Mesa).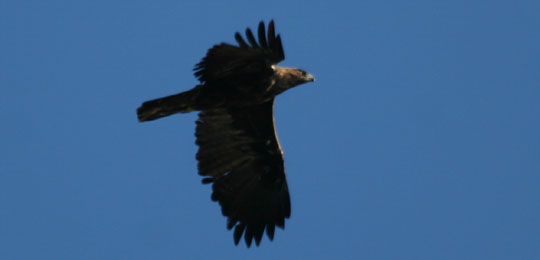 The image above is of a Golden Eagle taken by Callie Bowdish at Cachuma Lake.