At the beginning of this new year, we have exciting news to report about another glorious open space in the Santa Barbara area; the San Marcos Foothills.
For decades, the Santa Barbara Community, as well as and a host of environmental organizations, have worked consistently and diligently to protect this area of great scenic beauty and biological significance.  Now, after years of collaborative efforts, and in conjunction with a local developer, a large portion of the San Marcos Foothills has been preserved.  Early this month, Jeff Bermant, donated 200 acres to the Trust For Public Land (TPL), who will subsequently deed this gift to the County of Santa Barbara.  Our sincerest congratulations to all the parties involved, and especially to the San Marcos Foothills Coalition whose members have worked tirelessly for these seven years to preserve this wonderful area.
When the More Mesa Preservation Coalition came into being in 2000, there were three open spaces in need of protection; Ellwood Mesa, the San Marcos Foothills and More Mesa. Now only More Mesa remains.
Happy New Year from all of us at the More Mesa Preservation Coalition!
San Marcos Foothills from More Mesa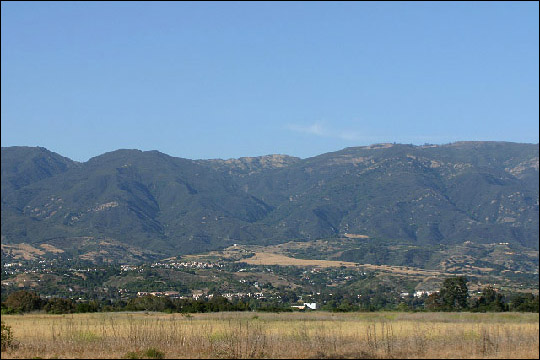 Views of San Marcos Foothills