Vernal Pools
With all the emphasis on water in last month's news, it seemed most appropriate that our web site should include a section devoted entirely to a very special water feature of More Mesa; its vernal pool.  As described in the More Mesa Handbook, as well as in the Draft Updated Biological Resources Study, More Mesa has a rather large vernal pool in the southeast corner near the coast.  Indeed, this pool and every other vernal pool that still exists, are extremely important. Why?  First, because more than 90% of the vernal pools in the state of California have disappeared. And second, the pool at More Mesa is not insignificant.
We are happy to report that we are introducing this special feature this month at this link. Here you will find general information, such as the definition of a vernal pool and what life forms are found in vernal pools; especially those that live nowhere else. These basics are then followed by a few specific details on vernal pools of California, Santa Barbara and More Mesa.  We have also provided two references on vernal pools in Santa Barbara that may be consulted for even more in-depth information.
Finally, in each yearly "winter-spring" season we are hoping to report detailed data on pool size, condition and kinds of plants and animals that are living in the More Mesa Vernal Pool.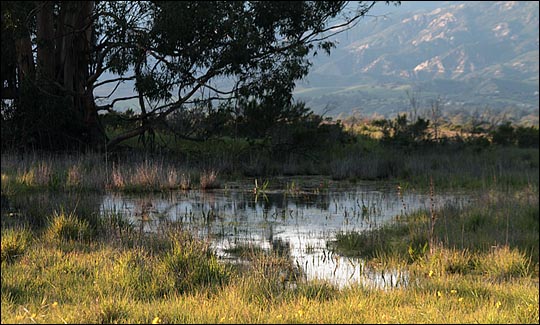 February 22, 2011: More Mesa vernal pool, SE corner.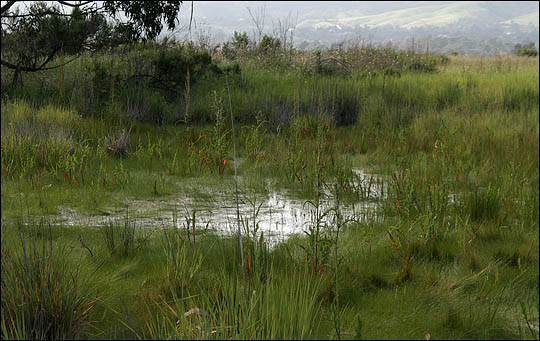 April 23, 2011: Same More Mesa Vernal pool.
To view a slide show of photos or the vernal pool from this year, click here. By moving the mouse to the area above a photo, click on "Show Info" to display photo titles. To see the photos as thumbnails, click here.