"Soft" Solution Offered to Solve Goleta Beach Erosion Problems
Since 2003, the County of Santa Barbara has been investigating ways to mitigate the loss of beach area at Goleta Beach.  These losses are attributed to natural erosion that occurs during winter storms, and especially, severe ones.  Both "hard" solutions, which employ structures and/or rockwork, and "soft" solutions, which do not, can be used.  In 2008, the County settled upon a "hard" solution, in the form of a permeable groin, and went forward with that approach.
However, last November, the Coastal Commission, in keeping with it's mission and policy, overwhelmingly rejected the "permeable groin" and directed the County to come up with a "soft" alternative; one that would both protect Goleta Beach, as well as eliminate any down-current erosion.  MMPC has been very involved in this process for more than six years, as the beach that is immediately down-current of Goleta Beach lies beneath More Mesa's bluff top.  Proponents of the permeable groin project admitted that there would definitely be additional erosion to More Mesa Beach, and that it could also be very pronounced.
We are extremely pleased to report that the County has proposed an excellent "soft" approach, one that would protect both Goleta Beach, and More Mesa Beach.  Further, it would meet other important environmental needs.  This concept was unveiled at a meeting held on February 16, 2010.  The details of this initial phase, called "Goleta Beach 2.0" may be found at here.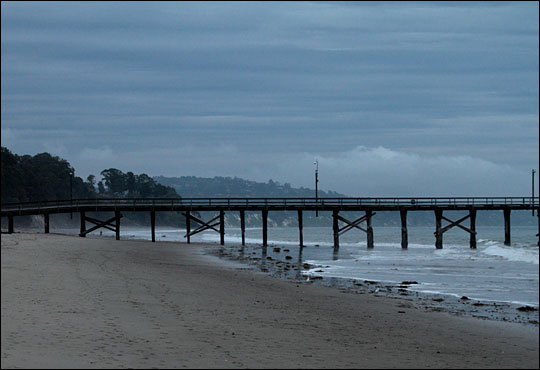 More Mesa cliffs from Goleta Beach, photo center in the distance.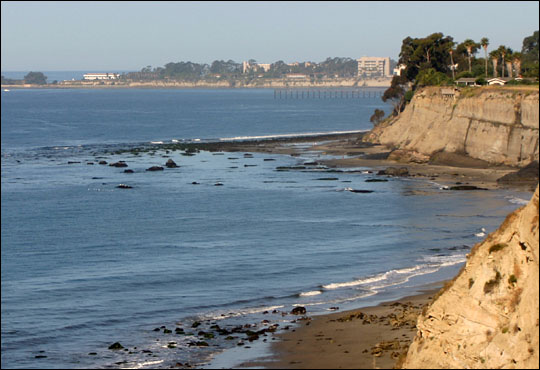 Goleta Bay and Pier from More Mesa cliffs.