Lots of Special Birds
A wide area of More Mesa has been surveyed within the last few days. We are most happy to report that 34 different species were identified during this one survey. Among them were two raptors, a Peregrine Falcon and a Cooper's Hawk. Also of very special interest were eight singing Grasshopper Sparrows and five Blue Grosbeaks. Moreover we are most pleased to relate that fledglings of these two species were observed as well!
We are indebted to Mark Holmgren for this extensive report, the details of which can be found at http://ebird.org/ebird/view/checklist?subID=S23709737
And, they are still with us … a kite was reported hunting on the west side of More Mesa on May 31!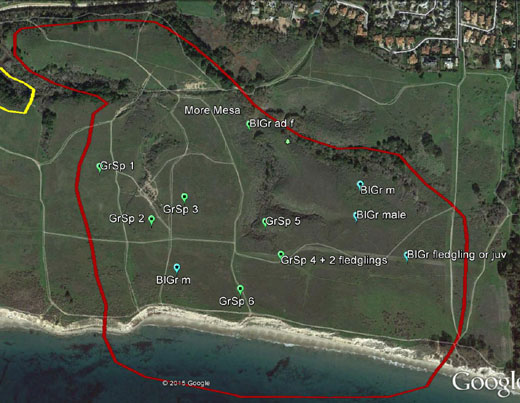 Locations of Grasshopper Sparrow and Blue Grosbeak sightings.