Summer Butterflies: If you have not already discovered it, we encourage you to check out one of our web site's many slide shows of photographs of Butterflies seen on More Mesa. Furthermore, there is a downloadable pdf Guide.  And, happily, at this time of year you can see more and more of these local beauties in the open. For example, when you visit More Mesa you are likely to see Anise Swallowtails: butterflies that lay their eggs on our ubiquitous fennel. And a second species regularly observed, flying low and sitting on bare ground, all over More Mesa, is the Common Buckeye.
AmazonSmile: On another note, a financial one at that, we are pleased to announce the More Mesa Preservation Coalition has been registered to receive 0.5% of the purchase price of all eligible products selected by Amazon customers.  This program conceived by Amazon, and known as AmazonSmile, can be accessed by entering Amazon at a slightly different web address. This web address can also be found at the lower right side of our Monthly News (this) page, below the Sitemap button. Shopping with AmazonSmile is identical to shopping with Amazon in the conventional way, with a very few products being exempted from the program.
We urge all of you who love More Mesa and want to help, to bookmark this new page and use it instead of the Amazon URL you are currently using. Thanks so much!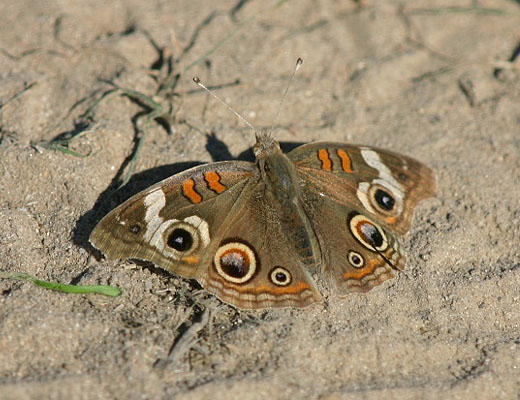 Common Buckeye