Many warm new-year wishes from all of us at the More Mesa Preservation Coalition!
We sincerely hope that 2006 brings health, happiness and peace to all of you.
Many folks are already thinking SPRING  and about new garden plantings for areas surrounding their homes. We would like to suggest that More Mesa lovers give serious consideration to using native plants; for both their beauty, and their contribution to our natural environment. Extensive information on native plants and their importance to our area, may be found on this web site at here.
On a more general environmental note, we are happy to pass along the information that our local recycling company, Marborg, is now taking all plastics from #1 to #7!
Recent rains have already made their impact on More Mesa, it's green, its muddy and wonderful to visit!!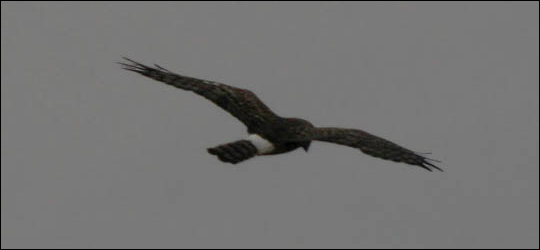 Northern Harrier flying over an overcast More Mesa. This was one of two Harriers on the 2005 CBC.