You may remember that a fire broke out on More Mesa in mid-summer of last year  (August 2007 News) Since last September, MMPC has routinely been monitoring the five acre burn area. Specifically, we were interested to see how both native plants, as well as invasive plants, were recovering, or colonizing, after the fire.  Twice monthly we observe specific areas and photograph the changes in different trees, shrubs and ground cover.
The Bad News:  Unhappily, all existing invasive species have made a robust recovery, except perhaps for fennel (which usually appears later in the year):
Malva and Radish are everywhere.
Harding Grass was slow to come up last fall, but now can also be seen in profusion.
Eucalyptus is recovering fully with shoots from the base of burned plants
Oxalis has covered almost all area with a thick, light green coating … which looks very pretty, but bodes ill for any native wildflowers.
The Good News: While many natives are recovering, the recovery is slower than that of the invasive species.  However, recent rains have benefited native plants so that:
Coast Live Oaks are showing shoots in the burned upper branches of young trees, as well as shoots from the bottom of main trunks.
Coyote Bush made a comeback in the fall and continue to be very robust.
Willows are showing signs of new leaves in the top burned branches as well as near the base of the trunks.
Spring is a beautiful time on More Mesa … even in the fire area!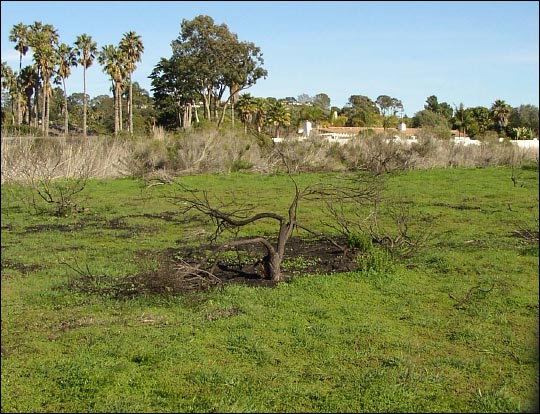 Burned Coyote Bush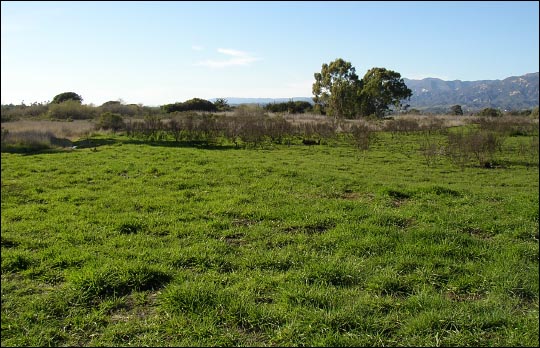 Invasive Plants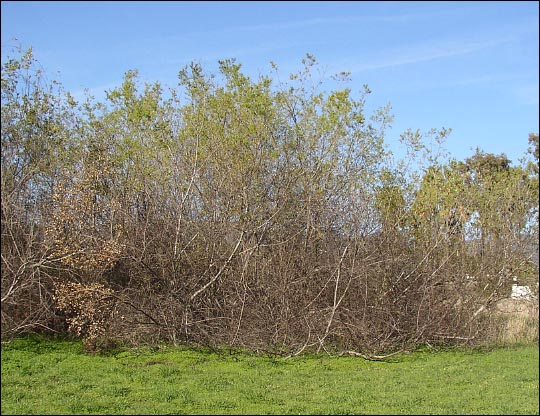 Recovering Willows