WHO WILL DO MORE FOR MORE MESA?
You ask, they answer,
then you decide whom you want
for
Second District Supervisor
Last month's news highlighted the importance of the upcoming election for Second District Supervisor.  In keeping with this theme, the More Mesa Preservation Coalition (MMPC) is pleased to sponsor an informal forum among the candidates for Second District Supervisor. This is an opportunity for all residents, especially in neighborhoods on the northeast corner of More Mesa, to find out what each candidate would DO to preserve More Mesa, as well as other open space in our community.  After a few prepared topics, the candidates will answer questions from attendees. 
What: Candidate's Forum
Where: Common Area -Vista la Cumbre
Date: Thursday, May 11, 2006
Time: 5:30 pm – 7:30 pm
Who: Joe Guzzardi, Dan Secord, Das Williams and Janet Wolf
Since there is no parking on Mockingbird and parking is limited on Puente, we are encouraging neighbors to walk to the event, which will be held near the end of Mockingbird Lane.
For detailed directions, additional information, or questions, please contact us via the Contact page.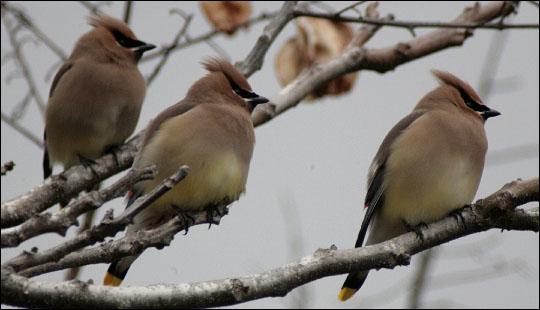 Cedar Waxwings were seen on and near More Mesa in recent weeks.