Third Update on Hacienda Vieja Project
Project approved by the Planning Commission: Several modifications to the Hacienda Vieja Project were offered by the developer at the 6 October meeting of the Planning Commission. These included redesigning two of the houses to one story, and reducing elevations and size. Two other issues were introduced as well. The first would insure that the wetland is maintained and monitored permanently. In addition, a covenant is being prepared that will ensure that a single, one story house is all that will be allowed on a second parcel that is part of this application. While many positive steps were taken, the approval of this application increases the number of two story houses allowed on the edge of More Mesa to a total of six … double the number we had six months ago! MMPC remains firmly committed to the position that there should be no additional two-story structures abutting More Mesa and that the size of one story houses should be consistent with other developments in the neighborhood of More Mesa.
Kites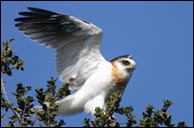 Baby Kites: We are extremely happy to report that the four pairs of kites that nested on More Mesa, or on the periphery, have fledged a total of ten chicks this season – seven in the spring and three in the summer. The last of the fledglings are now out on More Mesa, hunting and roosting. The picture to the right was taken of one of the chicks just before it flew for the first time on August 25th. A couple of days later, it was flying quite well in the image below.
Usage Survey
Usage Survey Launched: As reported last month, a usage survey has been hosted on this site. We have received several completed surveys, and encourage all users of More Mesa to help us collect the data we need to have credible statistics on the ways in which our community enjoys this lovely place. [The survey can be found here.]