Citizen Scientists Created a Record:
In MMPC's April Monthly News report we encouraged our supporters to become "Citizen Stewards" of More Mesa by reporting any inappropriate activities observed on More Mesa. This month we would like to reprise a similar theme … that of the "Citizen Scientist". For more than thirteen years, MMPC has played an active role in the collection of important scientific data about More Mesa. We have done this by archiving reported observations of rare birds, plants and animals. Much of this anecdotal, but extremely valuable information, was collated and documented in our More Mesa Handbook, hosted on this site.
Citizen Scientists Still At Work:
More Mesa provides excellent habitat for probably the most important White-tailed Kite population on the South Coast. Two or three pairs of this beautiful raptor, the signature bird of MMPC, and a fully protected species in the state of California, routinely make More Mesa their home.
And, this year, true to form, there has been a report of a chick located in the area of the historical kite nest on west More Mesa. This sighting, with two others recently reported, document the fact that we have at least two pairs of kites in residence on More Mesa this year; with at least one of these a nesting pair. Another recent submittal by a Citizen Scientist was a fox sighting, also on west More Mesa.
Thanks for all of your good work:
Once again … we call on all Citizen Scientists to keep an eye out for evidence of kite nesting, chicks or fledglings on east More Mesa as well other areas of More Mesa. Perhaps you can also spot the fox, and even the bobcat pair that have often raised a family on the west side of More Mesa.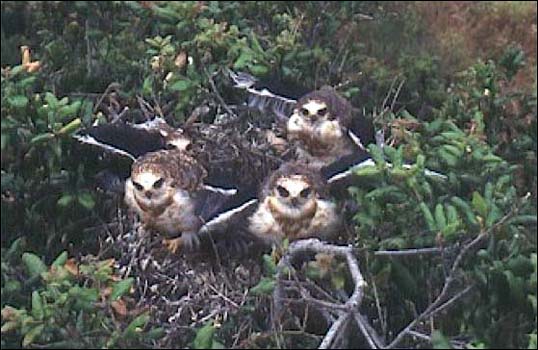 Archived photo of baby kites on More Mesa, by Morgan Ball