Birds
In addition to our permanent bird population, some fall migrants are stopping over on More Mesa, and many of our winter residents have already arrived.  In the past two weeks, the following birds have been observed on More Mesa:
Northern Harrier
Sharp-shinned Hawk
Cooper's Hawk
Loggerhead Shrike
American Kestrel
Savannah Sparrow
Song Sparrow
White-crowned Sparrow
Common Yellowthroat
Yellow Warbler
Wilson's Warbler
Blue Gray Gnatcatcher
Black-throated Gray Warbler
Cassin's Kingbird
Say's Phoebe
Wood Pewee
Western Meadowlark
Northern Flicker
And, of course look for our ever present, beautiful White-tailed Kites.
Fire
Also, while out on the East side of More Mesa, notice how the burn area is already recovering. Shoots of many native plants (coyote bush, willow and oak) are making their appearance from the fire blackened earth … and after only 0.3 inches of rain last month!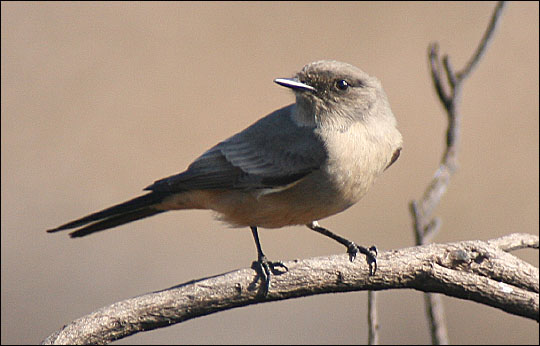 Say's Phoebe catching insects in the burned area, More Mesa, October 9, 2007.