Peregrine Falcon
In past Monthly News updates, we have encouraged bird enthusiasts who visit More Mesa to submit reports on what they see, via this web site. (Click on the button at the bottom of the home page or go to Contact > Sightings Report.)
In the past few years, several of our supporters have used the web site to document regular bird sightings.  As a result, we are most happy to report that we recently received a marvelous sighting of a Peregrine Falcon near the coastal path of More Mesa … in the process of consuming a prey item!  This bird has been definitely identified as a juvenile Falco peregrinus anatum; a race that breeds in sub-arctic Alaska and Canada and throughout the western US.  This is very exciting news, since the last reported sighting of this species on More Mesa was in 2004.  We are indebted to Van Laurn, who is a frequent contributor to our sightings data base, for this report and the More Mesa photo below.  Initially there was also some concern about the nature of the prey item, until Van subsequently tracked down the carcass and positively identified the prey as a pigeon.
More Mesa Handbook
We will be launching the More Mesa Handbook at a morning get-together next month, and on this web site next month as well.  Watch for announcement of the time and place of the get-together; via e-mail and in the February News.
Thanks for caring about More Mesa, and a Happy New Year from all of us at the More Mesa Preservation Coalition!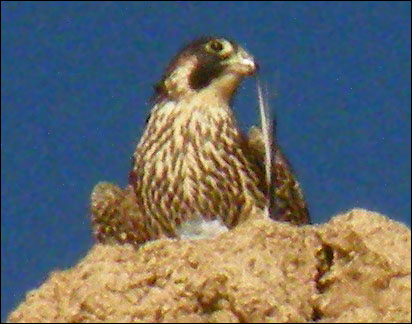 Juvenile Peregrine Falcon seen on More Mesa, January 7, 2009.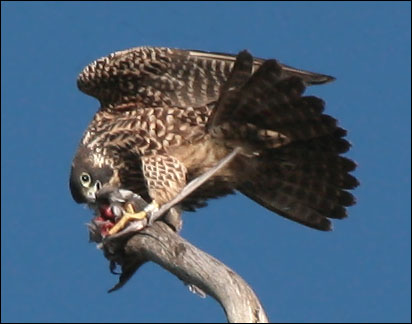 Possibly same Peregrine Falcon seen at nearby Goleta Slough mouth, Dec 26, 2008.