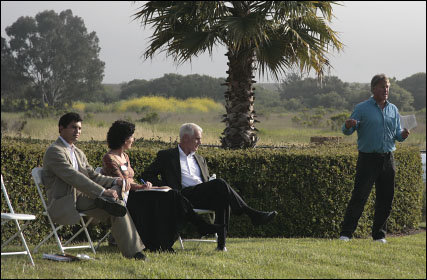 Three of the four candidates: Das Williams, Janet Wolf,
Joe Guzzardi, and MMPC moderator: Dan Gira
On May 11, 2006, the More Mesa Preservation Coalition (MMPC) hosted a Candidate Forum for all the candidates seeking the position of Second District Supervisor.  About 100 people were present to hear what each candidate had to say, with regard to specific questions about More Mesa and Open Space in general.  The event lasted two hours.
All four candidates, Joe Guzzardi, Dan Secord, Das Williams and Janet Wolf were present at the start. Dan Secord opted to stay for only a few minutes and did not participate in the forum. While he had originally agreed to be part of this forum, Dan felt it necessary to withdraw a few weeks before the event.  When he withdrew, MMPC requested he provide a written statement expressing his position on More Mesa.  His replies, as applicable to specific questions, are provided in quotes and italics, and following the responses of the three candidates who did choose to participate in the forum.
As moderator of the forum, Dan Gira (Board Member of the More Mesa Preservation Coalition) opened with a background statement about More Mesa.
"More Mesa consists of 300-350 acres of open space, with the County owning about 60 acres on the north end along Atascadero Creek.  The 265 acres of bluff top is privately owned. Currently, 40 acres of the bluff top, next to Hope Ranch are zoned for development of 70 mansions. The remainder, almost 75% of More Mesa, was designated as environmentally sensitive habitat (ESH) during the 1993 Goleta Community Plan.  This designation has been challenged by the owner.  The County prevailed on the general plan ESH designation all the way through the state and federal Supreme courts.  However, the courts allowed the owner/developer to again challenge this open space designation, if or when, a specific application for development of More Mesa is submitted.  Thus, while the Goleta Community Plan designates much of More Mesa as open space, it could be overturned by the County, or others more open to development. In the past, the owner has approached the County with proposals for a hotel, golf course and residential units in portions of the ESH area."
After this introduction, each of the candidates was asked to answer several questions.  Answers are summarized in the next pages.