A note from the Board!
Some of you may already be aware that I have been selected to be part of a committee tasked with conceiving a vision for the Eastern Goleta Valley (Second District) 20 years from now. The expectation is that this committee's recommendations will eventually become a framework for the Goleta Community Plan update. Speaking as a member of the Board of the More Mesa Preservation Coalition (MMPC), I believe that environmental and open space issues are major considerations for our area. Consequently, these topics should become a significant part of the Community Plan.
In keeping with this belief, MMPC is soliciting comments from our supporters, as well as other members of the community, on topics such as open space, wetlands, vernal pools, habitats, creeks, watersheds, parks, trails and visual and aesthetic resources. This is your chance to let Santa Barbara County know your vision for the Goleta Valley of 2020! Voice your opinions by contacting us via the Contact page. Your comments will be forwarded to the committee and integrated into its discussions.
We live in a truly beautiful place. Thanks so much for caring about it.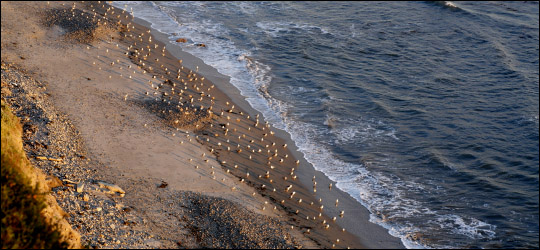 Gulls on More Mesa beach in the evening, February 20th, 2006.