We are pleased to announce that the More Mesa Handbook is here!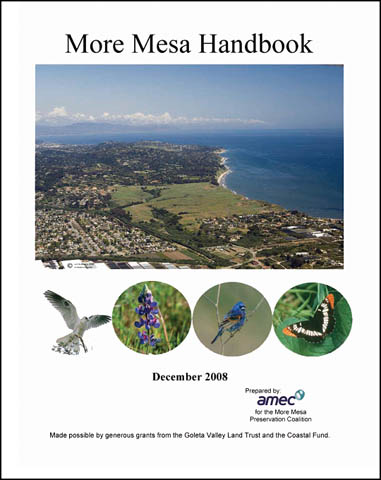 And, to celebrate this happy occasion,
we are throwing a party!  Here's the invitation …
The More Mesa Preservation Coalition (MMPC) cordially invites you to participate in a gala gathering to launch the More Mesa Handbook, an informative, thorough and comprehensive look at our "Jewel of the South Coast". Scan the Handbook, enjoy a short informal talk and an afternoon walk. Light brunch will be served. Please join us!
What: Launch of More Mesa Handbook
Where: Common Area – Vista la Cumbre
Date: Sunday, February 22, 2009
(Rain Location: 960 Vista de la Mesa Drive … see map below)
Time: 11:30 AM to 1:30 PM
RSVP: via the Contact page, with number of guests attending, or with any questions
Getting There and Parking: Since there is no parking on Mockingbird Lane, and limited parking on Puente Drive, we encourage folks to walk if at all possible (see map). If you have to drive from Hollister turn south on Puente Drive, park near the intersection of Puente and Mockingbird Lane, and walk up Mockingbird (towards the ocean). Follow signs to the party (see map below).