In mid afternoon of July 18th a fire broke out on the eastern edge of More Mesa.  Winds were potentially very dangerous. In fact, at first assessment, it appeared it might be difficult to contain the fire, which was spreading in a northwesterly direction.  However, within less than ten minutes, the Santa Barbara County Fire Department was on the scene. A helicopter assigned to the Zaca Lake fire was also temporarily diverted and joined in fighting the blaze. This dedicated and efficient team, working on the ground and from the air, had the flames extinguished within 15 minutes.  To insure that there were no remaining hot spots, firefighters stayed on the scene for another 2-3 hours.  The investigation conducted by the Fire Department estimates the burn area to 5 acres (see below), and concludes that the fire was probably caused by sparks from a motorcycle exhaust pipe.
We all can help prevent any future recurrence of this kind.  This year's rainfall was significantly below average and all our open areas are extremely dry.  Therefore we urge all of you who recreate on More Mesa to be extremely vigilant about not smoking or introducing other potential fire risks (motorized vehicles) to this precious remaining open space.  Also, please point out potential fire danger to others out on More Mesa who might be unaware of the high fire risk.
The whole community extends our heartfelt thanks to our fire fighters for responding so quickly and, most importantly, for the wonderful job they did.  THANK YOU SANTA BARBARA COUNTY FIRE DEPARTMENT!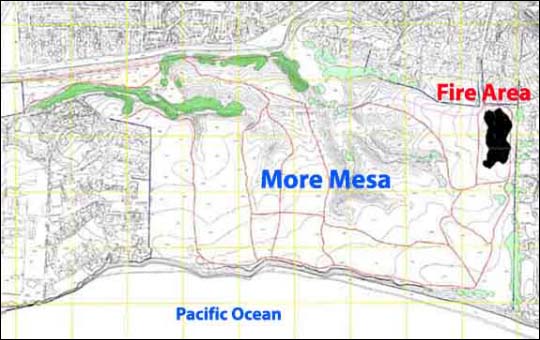 Map of the July 18, 2007 fire on More Mesa.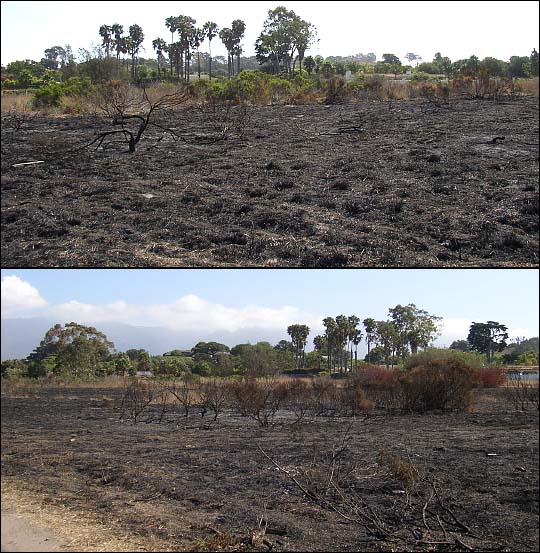 Aftermath of the July 18, 2007 fire on More Mesa.