More Mesa Handbook Launch Party
The rain on Sunday, 22 February 2009 did not seem to dampen the spirits of the 80 folks who attended MMPC's party to launch the new More Mesa Handbook.  All judged the event a great success … despite having to move the venue indoors, and into much smaller quarters.
Guests perused a hard copy of the More Mesa Handbook, enjoyed some refreshments, and listened to a detailed and very informative talk by Dan Gira, the AMEC and Earth Environmental Program Manager, who was responsible for creating the Handbook.
To view photos of the party can be seen Events > Handbook 2009.
Electronic copies of the More Mesa Handbook may be downloaded from Publications > Handbook.

White-tailed Kites
MMPC is most happy to report that there is confirmation of nesting behavior for three pairs of kites on More Mesa this year.  Indeed, it is further believed that one pair is already incubating!  This means also, that there is a good chance at least one pair of kites will double clutch this season.  The news of three nesting pairs is especially important, since there have not been many other kites sighted in the Goleta Valley of late.  With this news we have, yet another, demonstration of More Mesa's importance to the regional kite population.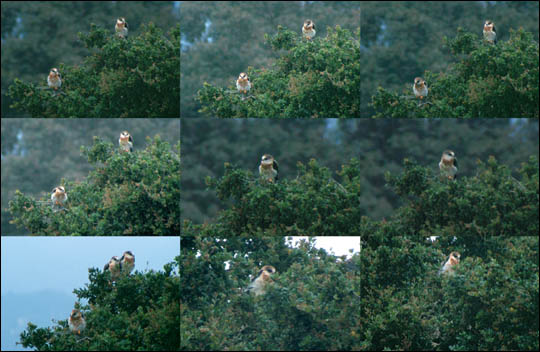 A number of photos of four pre-fledged kites, central area More Mesa, June 2003.
Click on the image to see a larger image.