IT'S ALL ABOUT THE CHICKS!!
Update on White-tailed kites … In May we reported that the pair of white-tailed kites occupying the east nesting area on More Mesa had fledged three chicks. This eastern area on More Mesa, known as Oak Hollow, has consistently and persistently been occupied each year with breeding kites. It now appears they have fledged another brood of three, and these youngsters are already out and about flying and foraging.
At one of the other traditional nesting tree sites on western More Mesa, two chicks fledged in May. The parents of these chicks appear to have moved to central More Mesa for a possible second nesting site.
This brings the known and recorded total of white-tailed kite chicks this year to eight or possibly more.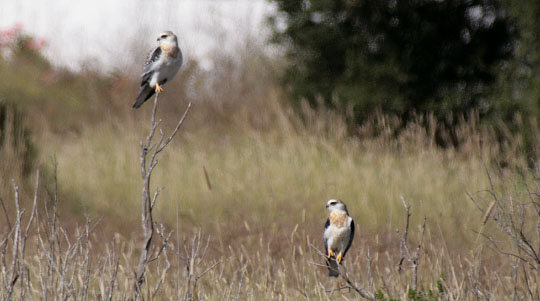 Two of the three kites hatched from a second nest on East More Mesa. Photographed, July 9, 2006.