Our beautiful More Mesa looks bleak indeed! We need rain more than we have needed in almost 15 years! And, although we received a little rain exactly a year ago, the long awaited 2016 El Niño pattern shift has finally happened, to deliver rain for this season.
Recent predictions based on anomalous elevated equatorial sea surface temperatures in the Pacific Ocean, continue to predict an extremely strong El Niño, perhaps the strongest we have ever experienced. In addition, these same predictions contend that strong El Niño events tend to begin at the start of winter, and continue into the spring. NOAA's latest three-month prediction is shown below.
Keep your fingers crossed and … Happy New Year!
[HTML1]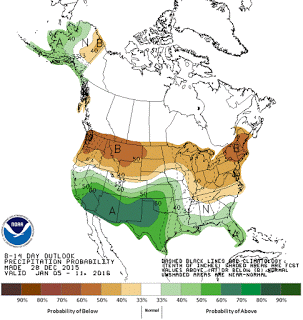 EXPECTED SERIES OF STORMS IN THE NEXT WEEK