Last month's news described the steps involved in the Updated Biological Resources Study on More Mesa subsequent to the selection of a consulting organization to perform the work.  On March 24th, Santa Barbara County announced the selection of the group that will conduct the survey in the message below:
More Mesa Biological Resource Study – Status Update
The County of Santa Barbara has selected an independent contractor, Rincon Consultants, to prepare the biological resource study of More Mesa.  Rincon Consultants has offices in Ventura and San Luis Obispo and has done extensive work in the Santa Barbara area.  Preparation of the study, including intensive field survey work, will begin immediately in order to capture the late winter/early spring survey season.  Formal approval of the contract is expected to be granted by the Board of Supervisors on April 15th.  The study will be comprehensive, lasting approximately one year.  You may notice survey equipment and other materials out on the site in addition to researchers investigating the site throughout the year.  If you are out on More Mesa, please respect, and do not disturb any collection or study materials. If you have any questions or comments during the preparation of the study, please do not hesitate to contact me.
Alex Tuttle
Planner, Development Review
Planning & Development
(805) 884-6844
123 East Anapamu Street
Santa Barbara, CA 93101
MMPC continues to encourage all who are interested in being kept informed of County announcements about the Biological Resources Study to contact Alex Tuttle at  atuttle@co.santa-barbara.ca.us .  Ask to be put on the "Interested Parties" list.
Above average rainfall has produced a profusion of glorious native wildflowers on More Mesa.  Some of the dozen or more species found on More Mesa this year are pictured below.  Enjoy!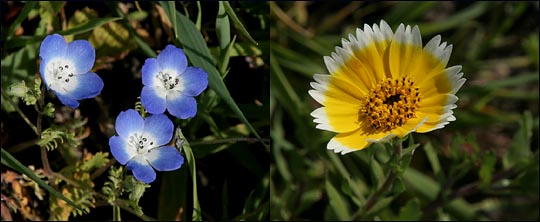 Baby Blue-eyes and Tidy-tips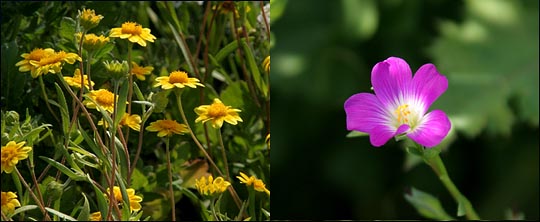 Goldfields and Redmaid


California Poppy and Lupine