No one would dispute we are in very troubled times. But while we are "Sheltering in Place" we are definitely not "Under House Arrest". So, if you are tired of fixating on the Ups (number of cases of the virus) and the Downs (the stock market), the More Mesa Preservation Coalition offers you … a Treasure Hunt.
Santa Barbara is a wondrous place to live, especially in Spring. And, with recent rains, we are having an absolutely beautiful bloom … one that should be seen. Add to this happy thought the consul that, for both mental and physical health, we should go outside. While we would love to encourage you to go to More Mesa, any number of public parks or pathways will do just as well. PLEASE MAKE SURE THAT YOU ARE 6 FEET AWAY FROM ANYONE ELSE … even though you may have to shout out "Look at this!" very loudly.
Today's treasure is our incredible
Coast Live Oak Trees
that are currently in bloom. YES … in bloom. Oaks produce two types of flowers. First are the tiny yellow male flowers that cluster on long strands known as catkins. A catkin can contain 25-100 flowers and there can well be thousands of catkins in any given tree. The task of the male flower is to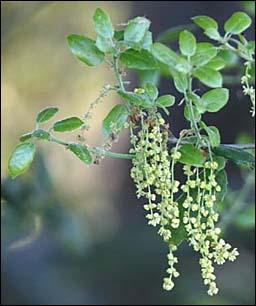 pollenate female flowers … preferably from another tree. Why does the tree produce so many male flowers? The answer is that pollination is done via wind power and not insects. Oaks are actually flowering plants; plants set apart from all others by a unique set of characteristics including their pollination technique and production of the acorn "fruit" that we see so many of in the fall.
While Coast Live Oak Trees can be found on the northern edge of More Mesa, they can also be seen on Ellwood Mesa, San Marcos Foothills Park, Hope Ranch and many public parks and bikeways throughout the Goleta Valley. Go find this first unique treasure!