It has been several years since the More Mesa Preservation Coalition has reported on the growth of our supporter base, and how important it is to the success of our mission … to preserve More Mesa forever. Therefore, we would like to take this opportunity to reemphasize the significance of building this already large and powerful supporter base, especially at this critical juncture.  That is, with the release of the Draft Updated Bio Resources Report, and the significant drop in the asking price for More Mesa, it is imperative that all members of the community who care deeply about More Mesa be aware of everything that is happening in, around, and about this very special place.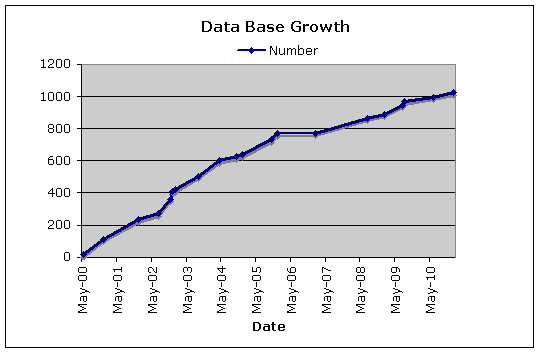 From the few community residents who chose to be supporters of MMPC in 2000, we have increased to more than 1000 strong (see above).  One of MMPCs major goals for 2011 is to increase the size of the supporter data base by at least 25%.  This goal, while ambitious, is extremely important. This is because, should the status of any aspect of More Mesa change, at any time, we want all of the community to know about it … and know about it quickly.  Agility, and the ability to respond to any issue effectively and promptly are essential. To accomplish this growth, we are planning an aggressive outreach program.  It will consist of both tabling and talks, designed to inform our community and engage them in the process of preserving More Mesa.
You can help by talking about More Mesa to your family, friends, neighbors and colleagues.  Urge them to be included on the MMPC supporter list, by signing up on the home page of this web site or contacting us at the email address on the Contact page. We ask that supporters supply an e-mail address, and at least one other form of contact (mailing address and/or phone) so that we easily relocate those who change servers.  Please know that all contact information is held in the strictest of confidence and will not be supplied to any other person or organization … ever.
You can also help by letting us know of any fraternal, civic, religious, service, environmental or other, organization that would like to have a uniquely tailored, and illustrated talk on More Mesa.  We can accommodate presentations of any length, or emphasis, and we provide all the necessary AV equipment.
Thanks so much for all your help.