What's Happening on More Mesa …
In spite of the continuing drought, there are a myriad of birds on More Mesa!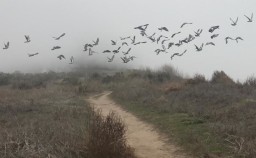 Over the past two months, bird enthusiasts have reported dozens of different bird species on More Mesa in a single, relatively short, visit! Further, of the dozen or more raptor species that MMPC follows on More Mesa, most have been seen in recent months and often with two or more of the species seen at the same time. (Photo courtesy of John McKinney.)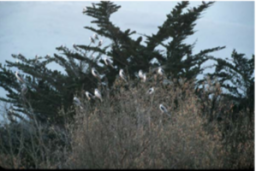 Kites: We are still getting reports of kite roosting behavior with 13-14, and up to 22 birds! Although the 22 were not seen routinely, this number is exciting news for the Goleta Valley, as we have had only one or two kite pairs for many years of the drought.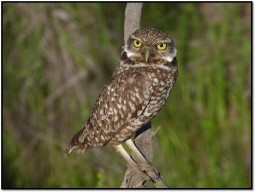 Burrowing Owls: There have been several sightings of two Burrowing Owls … very unusual for this to occur and definitely good news for More Mesa. Burrowing Owls were formerly common in Santa Barbara County, but have been virtually eliminated with only one or two over-wintering birds along the entire South coast. To learn more about these tiny owls (with a definite attitude) see page 35 of the More Mesa Handbook. (Photo courtesy of John Storrer.)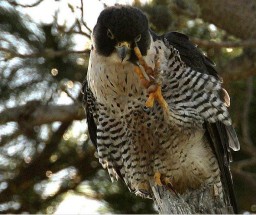 Peregrine Falcons: In addition to so many other birds, we have also seen another raptor not usually seen on More Mesa, the Peregrine Falcon. Like the Coopers Hawk, the principal prey of the Peregrine is birds. Perhaps there is a link here? (Photo courtesy of Larry Friesen.)
Ask the President
Q: What's the best way to see all the birds on More Mesa?
A: Hike!! You can see birds anywhere on More Mesa.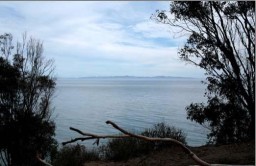 As you visit this special place more often, you will find the spots where your favorite birds can be found. A popular short hike is on the east side (adjacent to Hope Ranch) and starts at the gate on the end of Mockingbird Lane. A straight walk directly south brings you to the bluffs and a spectacular view of the Santa Barbara Channel and the Channel Islands. If you feel adventuresome you can continue down the rough wooden steps to the beach. However, More Mesa is a great walk without going down to the beach … as the area is honeycombed with trails.
If you have more time and are so inclined, John McKinney of The Trailmaster suggests hiking the following 2.5 mile counterclockwise loop around More Mesa:
Head for the stairs to the beach (as above)
At the coast, turn west along the ocean … using the narrow path at the edge (only when it is dry) or a wider path that is slightly inland
Walk the full length of the bluffs to the western edge of More Mesa (line of homes and a commercial nursery) and turn north towards the mountains
Turn back east along the inland edge of More Mesa and past a profusion of trails
Close the loop and rejoin the main trail near the trailhead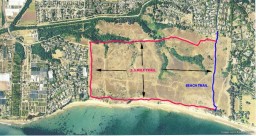 Alternately there are several options for turning north before the extreme western edge of More Mesa that will take you into oak and willow ravines that are both charming, and have entirely different habitats.
We are indebted to John McKinney and his web site, for much of the information above. John has been visiting, and writing about, More Mesa for 30 years. And we are happy to report that More Mesa will be included in the pocket guide "Hike Santa Barbara" … available this Spring. For additional information and hikes visit The Trailmaster. THANK YOU JOHN!
You Can Help … Become a "Citizen Scientist"! Since 2003 MMPC has maintained a data base of bird and animal sightings reported on More Mesa. Some of these sightings come from other data bases, and some are from supporters who report what they see on More Mesa.
Our website has an easy and convenient way to report More Mesa sightings. Simply go to the "Sightings" page and fill in the required information. You can obtain an approximate location for your sighting by consulting the map at the bottom of the page, gridded with alphanumeric coordinates. For example a Peregrine Falcon seen at the coast was reported in grid I 6. We are especially interested in reports of raptors like White-tailed Kites, Coopers Hawks, Red-tailed Hawks, Red-shouldered Hawks, Owls of all species, Kestrels, Loggerhead Shrikes and Peregrines.
Thanks so much!
Valerie Olson
President, MMPC