As this relatively quiet year draws to a close, and has been our custom, we offer some highlights of 2010.
Bio Study
It is nearly a year and a half since the field work for the Updated Biological Resources Study was completed, and the final report has still not available. We have requested estimated release dates several times and have been assured that the report will be available some time in the future … but that has not happened as yet.

More Mesa For Sale
As we reported for the last 2 years, More Mesa remains for sale, with the asking price dropping from $110 Million to $85 Million, and now to $40 Million. As far as we know, it has not been sold. As always, we will keep you informed of any developments in this area.

More Mesa Handbook
Link. In March 2010, the More Mesa Handbook garnered yet another, and its most prestigious, award to date. This time as winner of the Association of Environmental Professionals (AEP) "2010 Outstanding Public Involvement/Education Program" for the entire state of California!  The award was conferred jointly to AMEC – Earth and Environmental, and the More Mesa Preservation Coalition website. See the April, 2010 News for more details.

Tenth Anniversary
In July of this year the More Mesa Preservation Coalition celebrated its 10th anniversary! In that very eventful decade, we have grown from a tiny cadre of less than 10 concerned neighbors, to a supporter base of well over 1000 community members. To commemorate this landmark, we created a timeline that features the major milestones MMPC has achieved, as well as important events concerning More Mesa.  This timeline can be found in the "Events" Section of this web site at Timeline. We are very proud of our accomplishments, and trust that this 10-year body of work will lay the foundation for the preservation of all of More Mesa—forever.

And finally …
A Bobcat family has been observed several times on and around More Mesa
There appears to be a Monarch butterfly roost on the eastern edge near Hope Ranch.
There may be a communal Kite roost near the historic eastern nest site.
As always … thank you all for your wonderful support, and for loving this very special place. Our warmest holiday wishes.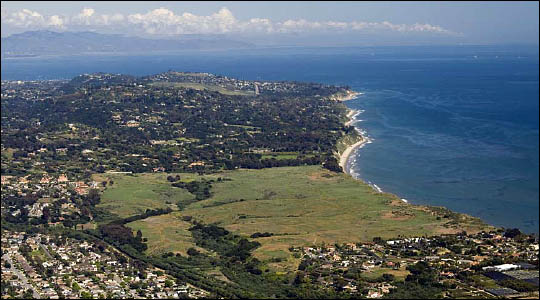 Aerial view of More Mesa along the Santa Barbara coastline.