Candidate Forum
As we reported last month, MMPC is sponsoring an informal forum among the candidates for Second District Supervisor. The purpose of the forum will be to hear how each candidate, if elected, proposes to preserve More Mesa, and other open space, in the Second District. The forum will be held on May 11th, between 5:30 and 7:30 in the Vista la Cumbre Common Area (end of Mockingbird Lane). For detailed directions, additional information, or questions, please contact us via the Contact page.
White-tailed Kites
We are extremely pleased to report that the pair of white-tailed kites currently occupying the east ancestral nest on More Mesa has already fledged three chicks. And … the parents appear to be building yet another nest for a second brood!  On the west end, two chicks have been seen and the parents appear to be thinking about a second nest. This news is especially heartening, since many of the other historical kite nests in the Goleta Valley appear to be empty this year.  A short walk onto More Mesa from the east will afford excellent views of the three youngsters practicing their hunting skills.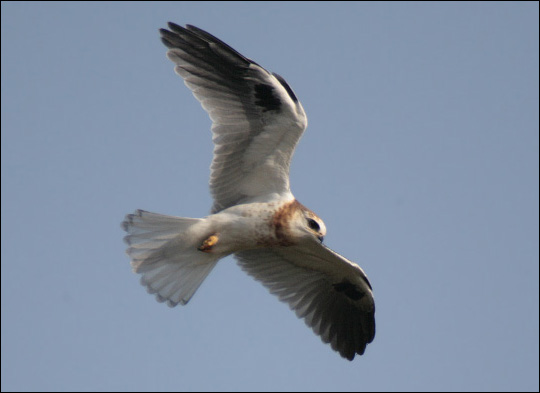 Juvenile kite on west end of More Mesa, May 9, 2006.