Happy New Year and Other Treasures!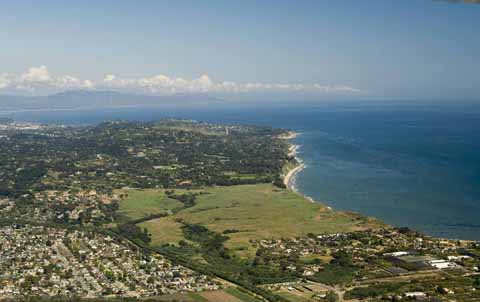 While our Treasure Hunt series ended last year, I am taking this opportunity to explore some exciting, new and incredibly beautiful treasures More Mesa has begun to present us. These treasures, courtesy of Mother Nature, some of whom have not been seen for many years, are brought to you courtesy of … RAIN!
Drought – Our current series of four back-to-back droughts began in 2006 and, until very recently, continued thru this year. Indeed, most weather experts are now are conceding that while there were brief respites in 2011, 2017 and 2019, we have actually been in "drought mode" for the better part of 15 years. Tree ring experts have also weighed in with what they describe as the worst drought in 300 years. We are all familiar with this bad news. However, we can now rejoice and celebrate a holiday season that has delivered a wonderful gift; the gift of rain!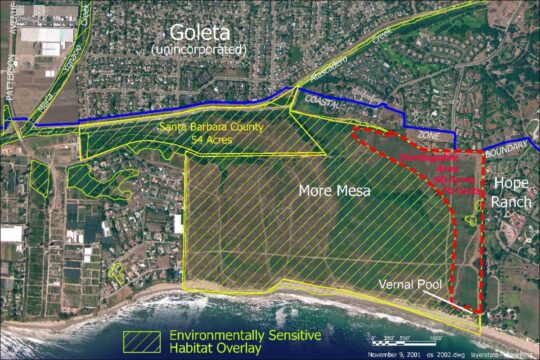 More Than 10 Inches! As I write, we have recorded more than half of the average yearly rainfall on More Mesa. This means that More Mesa is "greening up" and looking very beautiful! It also means that the Vernal Pool at More Mesa is filling and advertising itself with frog calls that have not been heard for many years.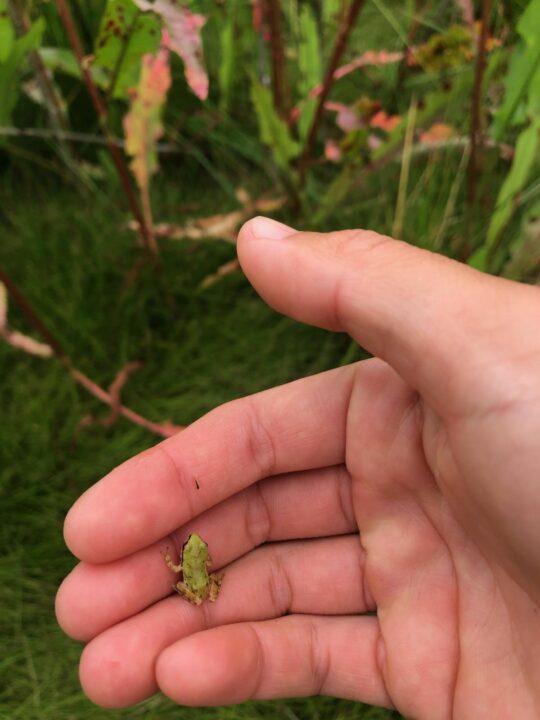 What is A Vernal Pool? The southeast corner of More Mesa boasts one of the rarest, and most threatened, of all natural communities; a vernal pool. A vernal pool forms as a result of distinctive climate, soil and topography, and is distinguished by the organisms it hosts. Moreover, these critters are ones that are restricted to special habitats that flood temporarily in winter and early spring, but are dry the remainder of the year, and as such, are among the most interesting organisms on earth. In winter the pools reach a maximum and support numerous aquatic insects and zooplankton; including rare and endangered species. In addition, Pacific Tree Frogs breed and lay eggs by the thousands. Vernal pools also provide a winter home for water fowl during the rainy season.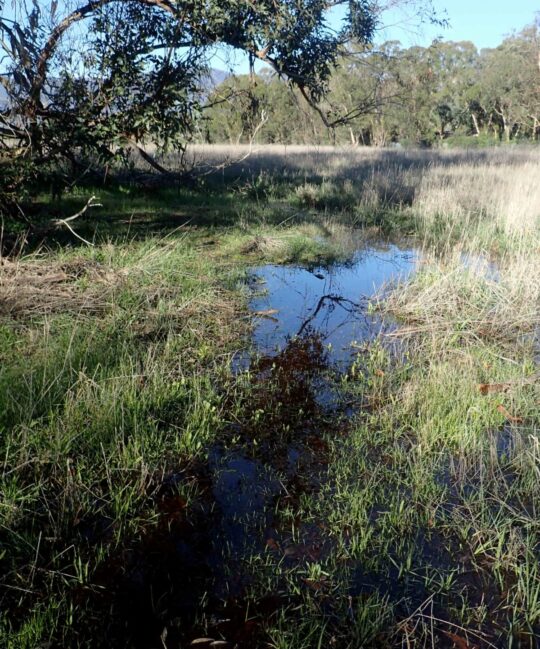 Research Is Important – The rains of 2017 and 2019 created relatively small vernal pools, and frogs were not always in abundance. However, in spite of the scant rainfall in 2019, the pool was was intensively studied and judged the most prolific in the area. The last time the More Mesa's vernal pool was very large, and contained appreciable water was in winter of 2011, a year when we received 147% of our annual rainfall … ten years ago! To learn even more about these very special, and fast disappearing, places see the Vernal Pool feature on our web site.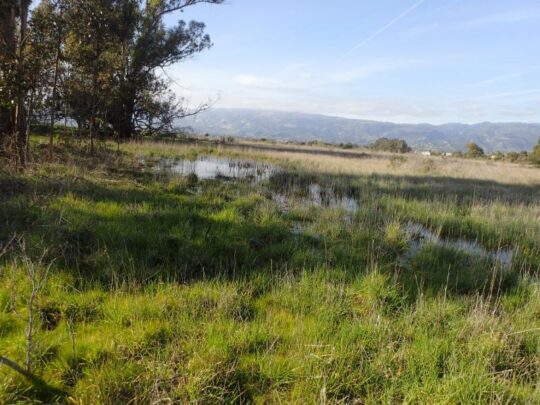 More Bounty from Rain – Even with the first small storm, More Mesa has "turned green' and is getting lush. Its grasses have been quick to begin the cycle of growth that provides seeds as food for small mammals. These mammals can now prosper to become food for the myriad raptors and other critters that make More Mesa their home. There should also be enough to satisfy the young birds that will need to be fed in the Spring. Early rain will also bring on the plants of coastal sage scrub and, most spectacularly, the yellow blanket of California Brittlebush that covers the coast, on and around, the steps leading to the beach. And for upcoming months, rain will bring all the tiny and precious wildflowers that poke up all over More Mesa, and give us yet another, more subtle show.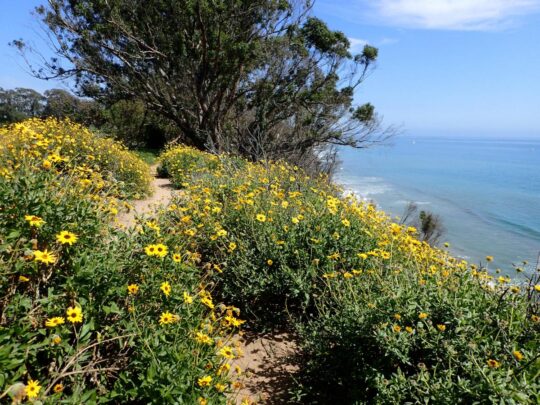 Heeding Cautionary Tales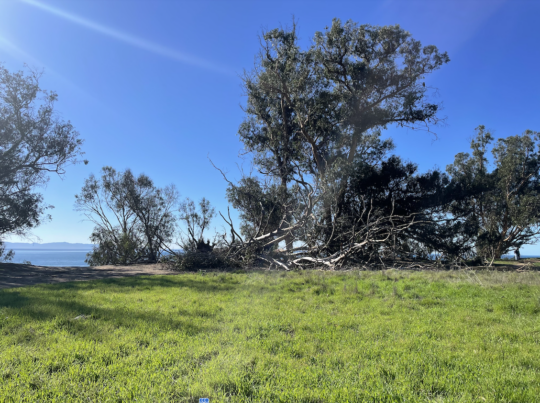 We All Fall Down! While storms bring moisture, they are often accompanied by wind. We had just such a storm on Christmas night around 9 PM. When I went for my stroll the next day, I was greeted with the remains of a very old and very large eucalyptus tree that was torn up and placed (not so gently) all over the intersection of the east and coastal trails, and next to the steps to the beach. There is a good reason the eucalyptus is known as the "widow maker". It is always dangerous to go near them when the wind is blowing, and after a storm.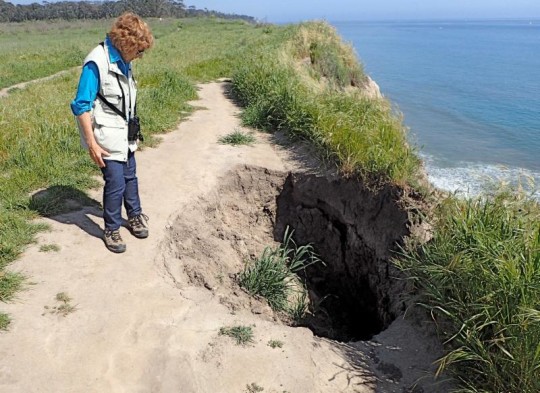 A Slide into the Sea – A second caution is also important. The two types of shale that make up the cliffs of More Mesa are extremely unstable. Therefore, while it is wise to always keep a sharp eye when using the Coastal Trail, it is equally unwise to even use that trail after a rain! If you have any doubt, look at the sinkhole that opened up after a storm in 2017.
In an echo of our recent Treasure Hunts, take a walk, look at the vernal pool, enjoy the green, look for the flowers and most of all …
HAVE A HAPPY NEW YEAR!