IT'S ALL ABOUT CATS … Today's Treasure Hunt is about an animal that is both always elusive, and relatively rare on More Mesa, a true American native, the Bobcat. Although there were a few sporadic sightings on western More Mesa from 2008 through 2015, we have not seen one in the last 5 years. However, we are happy to report a verified Bobcat sighting on the west side of More Mesa a few weeks ago, and another last week in a neighborhood near the east side of More Mesa!
But before I launch into the mysteries of the Bobcat, I thought it would be both fun and interesting to look at "American" cats in general.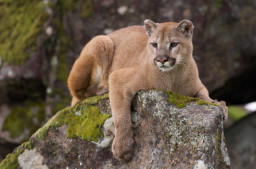 Mountain Lion: The largest of the cats found in the U.S. is the Mountain Lion, also known as a Cougar. Although originally, they may have been more evenly distributed across the United States, their populations are currently highest in the western states. This distribution is the result of eastern Mountain Lions being systematically eliminated by early settlers and subsequently declared extinct. (Remember we talked about Mountain Lions still being around in the west but not in the east. That was part of the issue on the Western Fence Lizard and Lyme Disease?) However, clever western Cougars are now migrating eastward and occupying territories previously home to their long-gone eastern cousins; specifically, they are showing up in the mid-west and along the east coast.
Mountain Lions, oddly enough, live in the mountains above Santa Barbara and you might even be lucky enough to see one on the San Antonio Creek Trail out of Tuckers Grove. One was even reported on the east side of More Mesa in 2015. Despite weighing 150 lbs (on average) and being called a Mountain Lion, this animal is not a member of the genus Panthera (Lions, Tigers, Leopards and Jaguars) and is more closely related to the domesticated cat than it is to Lions.
Domestic Cat: By far the most numerous cat we have in the United States is not a native, but the common house cat … the second most popular pet in our country. Cats were domesticated in America when settlers arrived from Europe, bringing cats with them across the Atlantic. These were not your "lay on your lap and purr" cats, these were "working cats"; kept around to catch mice and other rodents on ships. It wasn't until the 19th century that the idea of keeping felines as pets really flourished. Currently, Americans lead the world in cats, with 94 Million of them as pets and another 57 Million feral. (Unhappily, 69% of songbird deaths are attributed to feral cats.) Outdoor cats are also believed to be the biggest human-caused threat to other wildlife; specifically, they are responsible for the decline of 27 mammal species and extinction of 123 different bird species. By all means, love your cat but … Please spay it and keep it indoors.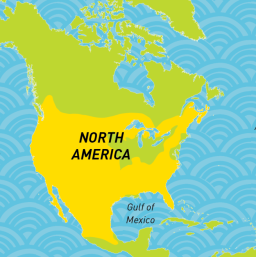 Bobcat: The American "wildcat" we are featuring in this issue is the Bobcat, a native animal that is, for the time being anyway, a species of "Least Concern", and is in the genus Lynx (short-tailed cats). The Bobcat has the largest range and is the most abundant of any wildcat in North America. Its population numbers between 750,000 and 1 Million animals.
Life spans for all the cats we've talked about are similar, and relatively short. Mountain Lions, live between 8 and 13 years. Pampered and protected house cats (aided and abetted by vets) last 13-17 years. Bobcat lifetimes top out at about the same as their wild brethren; 10-12 years.

Anatomy … Well Equipped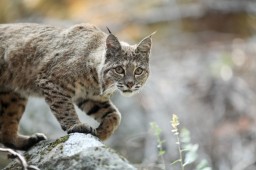 The Bobcat weighs in between 11 and 30 pounds; about twice that of the average house cat … although I have known some domestic cat owners who have overindulged their pets to the point of tipping the scales at more than 30 pounds. Bobcats are between 26 and 41 inches long, not including the tail. They have long legs, large paws and black-tufted ears. Their name derives from their short (4-7 inches), black-topped tail which appears to be "bobbed" or cut off. (More on this at the end of the Bobcat story.) Predictably, Northern Bobcats are stockier and have thicker coats to help them survive in colder temperatures.
Bobcats may look cute and cuddly, but they are actually fierce predators. Not only can they run 25-30 mph, but like Superman, they can leap as far as 12 feet to capture prey. Indeed, they have been known to take down animals much larger than they are; such as young deer! Bobcats can also swim, but they would rather not. In addition to running and leaping, they also have some skills similar to domestic cats. For example, they use their whiskers like fingertips to feel around habitats to determine whether an opening is big enough to fit through. Their great night vision is critically important as you will see below.
Habitat … Everywhere
Why are Bobcats the most widely distributed cat in North America? The answer is that they have adapted to living in a variety of different habitats; mountain woodlands, coniferous forests, swampland, deserts and even in suburban areas (as we found out). They are so versatile that the "exact" appearance of the Bobcat coat depends on its habitat. That is, the colors of its coat and spot patterns allow an individual animal to remain as camouflaged as possible in its surroundings. The historical range of the Bobcat once extended right across North America, but hunters eager to acquire the soft Bobcat fur, and loss of its natural habitat has led to its disappearance in some areas.
Solitary hunters by nature, bobcats lay claim to an area of land that can be anywhere from 1 to 18 square miles, with males having larger territories than females. Moreover, they will defend their territory against individuals of the same sex.
While Bobcats stake out at least two or three different shelters, the most frequently used is the "natal" den (nursery), which is often a cave or rocky, cave-like opening that the cats fill with dead plants for bedding. Additional dens can take the form of anything from bushes to hollow logs.
Dinner … Hunt at Dawn and Dusk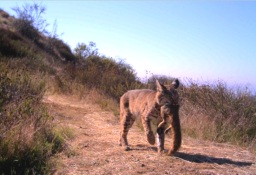 Bobcats are carnivores and crepuscular hunters; that is, they are active at both dawn and dusk. Specifically, they wake up about an hour before dawn, hunt and then go back to sleep in the early morning. Then about three hours before sunset, they wake up again, hunt, and resume sleeping at midnight. An hour before dawn the whole cycle repeats itself. From this, you can see why Bobcats are rarely seen by humans.
Wonderfully equipped for hunting, the Bobcat has excellent hearing because its long ear tufts act like hearing aids; enabling the Bobcat to pick up on the soft footsteps of prey. When it is running at 25-30 mph, it places its back feet into the same spots where their front feet stepped; a strategy to reduce any noise that might alert prey. Their widely varied diet depends on the food sources near them. Though the bobcat prefers rabbits and hares, it also hunts mice, squirrels, insects, deer, geese and other birds and chickens … the later getting the Bobcat into a lot of trouble!
Social Life … Limited to Reproduction
Bobcats are loners, except when it comes time to breed, sometime between December and April. The large territories of the males overlap with those of many females, and even to some extent those of other males. A male will "court" a receptive female and then breed with her many times over a period of 1-2 days. When they are done, he will move on to the next female that is signaling her readiness to mate. Like the spiders, the males play no role in rearing the young.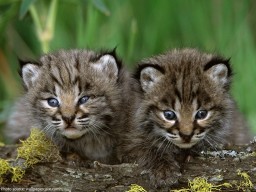 Bobcat gestation is 8-10 weeks and produces a litter with up to 6 kittens, but more likely 2-3. The tiny kittens weigh 10-12 ounces and will nurse until they begin consuming meat. The young will be born in a "natal den", but mother bobcats move their kittens from one den to another on a regular basis. This helps throw predators off the little ones' scent. The "absentee dad" issue presents a big problem and a potential threat to the whole Bobcat population. That is, when mother goes off to hunt, the tiny newborn kittens are not only extremely vulnerable but even blind until they are six days old. Coyotes and Owls, among other predators, take bobcat kittens. Young will remain with their mother for about 8 months and learn how to hunt independently. Females reach sexual maturity at about one year and tend to have a single liter a year.
Bobcats … Only to be Admired
Bobcats do not attack people … ever. However, under no circumstances should anyone attempt to touch or handle a wild bobcat, or her kittens. If you are lucky enough to meet one, keep your distance, protect your pets, back away slowly, take a photo and be ever so grateful that you got to see such a beautiful and elusive creature!
Threats … Other Animals and Us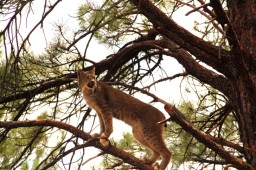 The Bobcat is itself, a fierce and dominant predator in its natural habitat. Therefore, adult Bobcats are only threatened by a few animals, the biggest concern to them being Mountain Lions and Wolves.
By far the biggest threat to Bobcats is humans! Because of the beauty, softness and density of their fur, Bobcats were hunted nearly to extinction in the early 20th century. Although they rebounded to almost 4 million strong, there are now only about 1 million left. The reason for this large decrease includes both loss of habitat by encroaching human populations and hunters. They are killed, both legally and illegally, for sport and their valuable pelts. Unhappily, due to the Bobcat's penchant for eating chickens, they are regarded as a nuisance and are often shot by farmers.
Folklore … Fun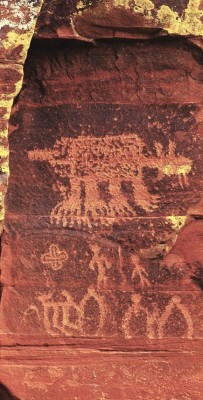 Rock art often gives us clues to the lives of early people. For example, I found this photo (by Doug Sherman) of an Arizona petroglyph that does look an awful lot like a bobcat. In addition, we do know that the bobcat plays both negative and positive roles in Native American mythology. For example, in Hopi stories he is greedy, selfish and acts badly toward women, but in Zuni stories, Bobcat was believed to have hunting medicine.
A Blackfoot legend tells how the Bobcat came to look as it does. The story begins by telling us that a Lynx ate all the roasted squirrels belonging to an Old Man who was sleeping. The old man was so angry when he awoke, that he grabbed the Lynx by the ear and shortened his head by banging it into a stone. Then he pulled out the long tail, and after snapping it in half, he stuck the brush part in the Lynx's rear. Finally, he stretched the legs and the body of the Lynx until they were long and skinny. Then the old man threw him on the ground and said "You Bobcats will always have a bob tail, you will always be short of breath and you will never run very far."
WOW … he was really mad!!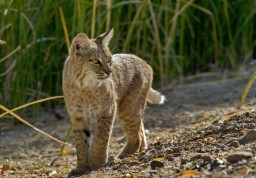 Stay safe … Valerie